Thank you as always for using Kozutumi.
We are pleased to announce that the "Forced Cancellation Function" is now available within Kozutumi.
The "Forced Cancellation Function" allows the organization administrators of Kozutumi to forcibly cancel a specific transmission on behalf of the sender from the audit screen, using administrator privileges. In case an employee makes a mistake with the recipient or attached file, the administrator can immediately cancel that transmission.
The "Forced Cancellation" button is located in the red-framed area at the bottom of the audit screen.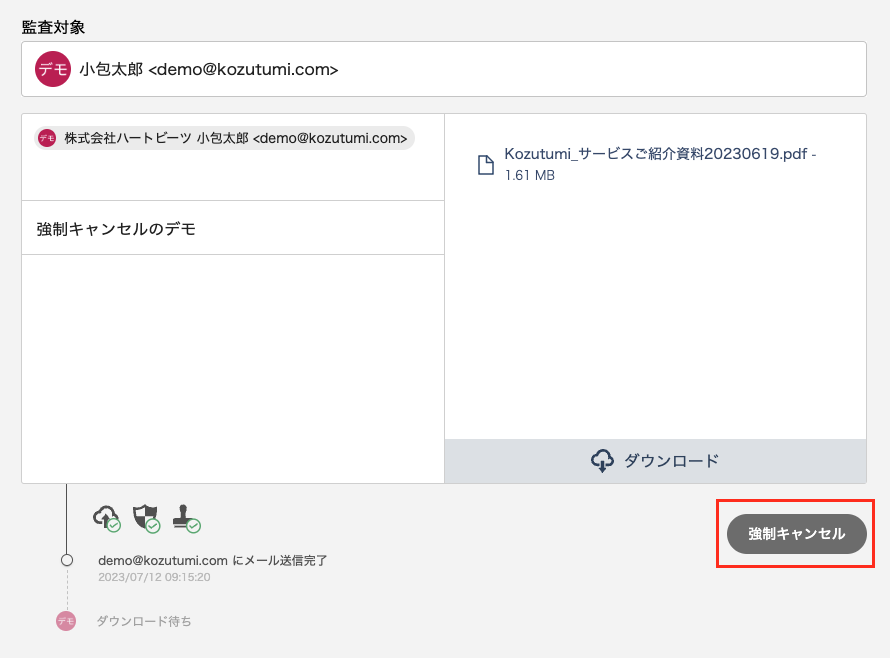 If a "Forced Cancellation" occurs, a log is left on the sender's screen indicating that it was forcibly cancelled by the administrator. On the recipient's screen of the erroneously sent message, it is erased just like a normal cancellation, along with the reception history. *Please note that for email transmission, the received notification email will remain.
With the implementation of this feature, you can now use Kozutumi with even greater peace of mind.
If you have any questions or requests, please feel free to contact us. We look forward to your continued use of Kozutumi.